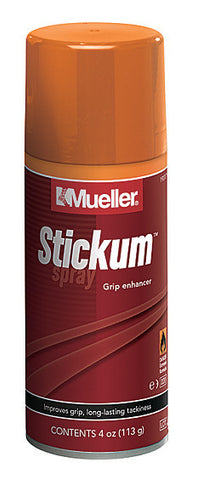 Stickum Spray™
$18.24
Brand Mueller®
This product is unavailable
Mueller Stickum is a spray designed to be directly applied to the palms of the hands or on any surface to increase grip i.e. soles of the feet or on shoes and gloves.
The spray works by forming a tacky surface on the selected area which increases grip and a resistance to sliding which can be important in gymnastics, weightlifting and numerous ball sports as well as for other health and safety measures.
Only one application is required each time and if, after application, grip begins to deteriorate simply rinse hands with water to restore full stickiness. Mueller Stickum is useful in conditions when skin can become either wet or greasy and is also available as a powder and a paste.
To effectively remove Mueller Stickum it is advised to use Mueller Tape & Tuffner Remover.
Stickum Spray™, 4 oz 113g
Aerosol adhesive spray for hands or bare feet and equipment.
Helps improve your grip even in wet conditions.
Due to Dangerous goods shipping requirements for Aerosols, these goods cannot be shipped by air and will travel by road freight which will take slightly longer.