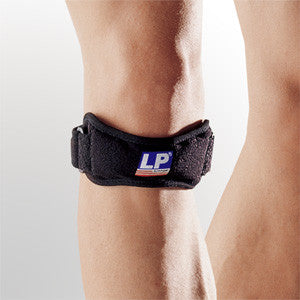 Patella Strap-LP®
$23.84
Brand LP® Support
Product Feature
Extra pad applies pressure on the tendon below the kneecap for improved patella tracking. Provides symptomatic relief of pain from chondromalacia, tendinitis, jumper´s knee or Osgood-Schlatter. Unique strap design fits all knee sizes with adjustable support.

Indication
Patellar tendinitis (Jumper's knee)
Osgood-Schlatter's syndrome
Available Size
Measure the circumference of the knee at the patella with knee fully extended.
One size 26.7-43.2cm (10 1/2-17")
Washing Instruction
Hand wash in cold water with mild soap. Rinse thoroughly.
Air dry at room temperature. Do not machine wash and dry.

Should a rash or irritation occur, discontinue use and consult your physician.
Composition
75% Closed cell neoprene foam, 25% Stretch nylon.