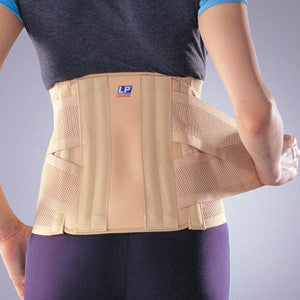 Lumbar Support with Stays LP®
$82.08
Brand LP® Support
Product Feature
Designed with straps crossing at the back and fastened in front for better support and comfort. Two pliable stays and four removable aluminum stays in posterior pocket for extra stability.
Indication
HIVD (Herniated lntervertebral Disc)
Spondylolisthesis
Low back pain
Osteoporsis
Available Size
Measure around the waist.
Washing Instruction
Hand wash in cold water with mild soap. Rinse thoroughly.
Air dry at room temperature. Do not machine wash or dry.

Should a rash or irritation occur, discontinue use and consult your physician.
Composition
40% Polyester, 20% Nylon, 15% Rubber, 15% Rayon, 10% Cotton.