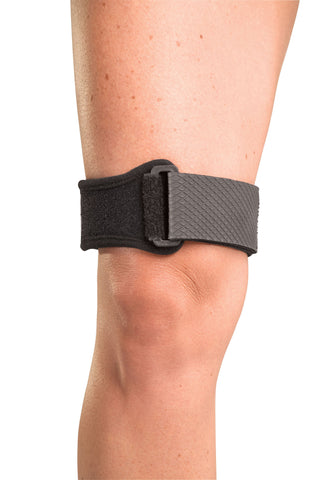 ITB Strap-Mueller®
$21.00
Brand Mueller® AUS
The Mueller ITB strap is effective and simple, it helps to relieve pain and discomfort associated with "runner's knee" caused by iliotibial band syndrome (ITB). The textured neoprene provides increased airflow and firm placement, it also prevents slipping and assists moisture management
Benefits of the Mueller ITB Strap
Designed specifically for easing aches and pains associated with ITB or runner's knee.
The simple design allows an easy fit and adjustment using the plastic buckle and Velcro strap.
Textured fabric assists in increasing air flow, reducing moisture and preventing slipping.
Reduced pain and discomfort allow one to continue training.
Mueller's patented, Aegis antimicrobial treatment protects the strap from, staining, odours and deterioration.
Recommended for runners but may be used for ITB pain management in other sports.
Sizing Info:
Single adjustable size fits above left or right knee,  29 to 48cm (11.5 to 19 inches)
Material & Allergy Information:
Neoprene blended fabric
Contains Latex
Available in black only