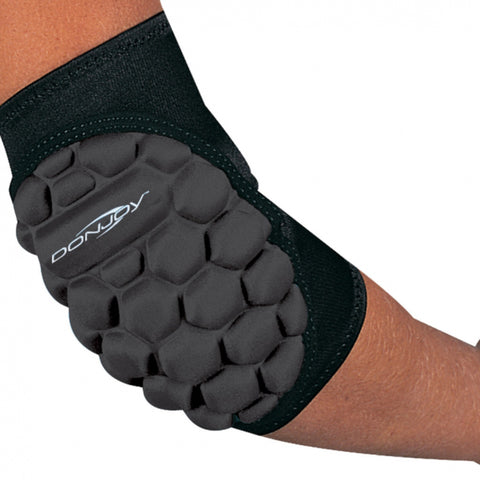 Spider Pad® Elbow Donjoy®
$69.95
Brand Donjoy®
Spider Pad® Elbow Donjoy®
Ideal use and application

The DonJoy Spider Elbow Pad designed to conform to your elbows. The padding has a special honeycomb structure that protects your elbows through maximum cushioning and comfort  - these are not conventional elbow pads. They are hardly felt and noticeable no matter your activity. Volleyball and Basketball players love them but they have limitless applications especially in the workplace for those that need comfort and support of their elbows.
Spider Elbow Pads are sold individually and not as a pair
Features and Function
Unique Honeycomb Design
Honeycombs structure provides maximum padding and ultimate protection.
Impact-Resistant Foam which is a top of the range material which is unique from other elbow pads in the market.

Compact-Profile and Slim-Lined Design are hardly noticeable.

Sizes Available
(Measurement taken at circumference of elbow joint)
| | | |
| --- | --- | --- |
| x = 1 = XS | 7" – 8" | 17.75 – 20.25 cm |
| x = 2 = S | 8" – 9" | 20.25 – 22.75 cm |
| x = 3 = M | 9" – 10" | 22.75 – 25.25 cm |
| x = 4 = L | 10" – 11" | 25.25 – 28 cm |
| x = 5 = XL | 11" – 12" | 28 – 30.5 cm |
| x = 6 = XXL | 12" – 13" | 30.5 – 33 cm |
| x = 7 = XXXL | 13" – 14" | 33 – 35.75 cm |