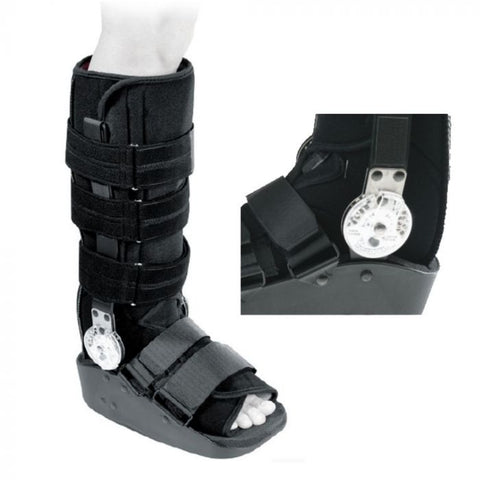 Donjoy® Maxtrax® ROM Walker
$130.77
Brand Donjoy®
Donjoy® Maxtrax® ROM Walker
The Procare ROM Walker is recommended for use following Achilles tendon repairs, stable fractures of the lower leg and ankle, acute ankle sprains and soft tissue injury. It provides foot and ankle immobilisation in 0°, 10°, 20° or 30° of plantar and dorsiflexion as well as protected range of motion in 7.5° increments from 45° plantar flexion to 30° dorsi-flexion with removable heel pads in the liner to accommodate edema.

Features & Benefits :
Rocker bottom sole.
Washable liner.
7.5° range of motion increments.
Low profile.
Promotes early range-of-motion.
| | | |
| --- | --- | --- |
| Size | Men's Shoe Size (AUS) | Women's Shoe Size (AUS) |
|  Small | 2.5-6.5 | 4.5-8.5 |
|  Medium | 6-9 | 8-11.5 |
|  Large | 9-12 | 11-14 |