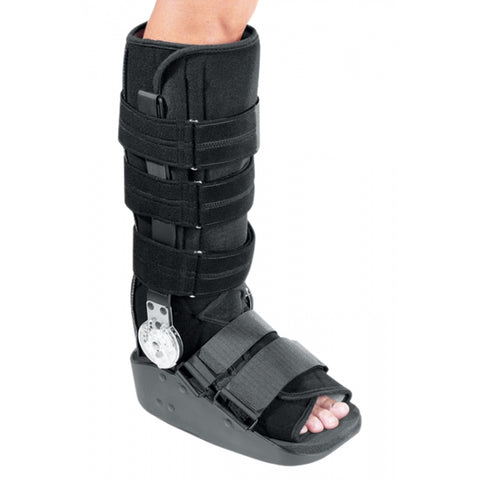 Donjoy® Maxtrax® Ankle ROM Walker
$94.46
Brand Donjoy®
Donjoy® Maxtrax® Ankle ROM Walker
Malleable uprights breakdown on stardard height to accommodate shorter tibia/fibula. Cushioned inner/outer sole. Low profile, rocker bottom.
The MaxTrax™ Walkers are intended to increase stability following trauma or post operative procedures including: acute ankle sprains, stress fractures of the lower leg, soft tissue injuries (grade II and III sprains), stable fractures and injuries of the foot and ankle, bunionectomies, metatarsal fractures, and Achilles tendon repair
Pediatric sizing through extra large
Wider footbed for increased stability
A one-piece liner design to keep sewn seams away from critical post-surgical areas
Swiveling D-rings to allow for criss-cross or parallel strapping
Cushioned inner/outer sole designed to absorb shock upon heel strike and improve patient comfort
Rocker Sole to help reduce plantar pressures
Malleable uprights that breakdown on all standard height walkers to accommodate patients with shorter tibia/fibula
Low profile non-slip outer sole promotes a natural gait
ROM hinge promotes early range of motion
ROM settings between 45° plantar-flexion and 30° dorsi-flexion in 7.5° increments.
Uprights lock in fixed positions of 0°, 7.5°, 15°, 22.5°, and 30° plantar- and dorsi-flexion.