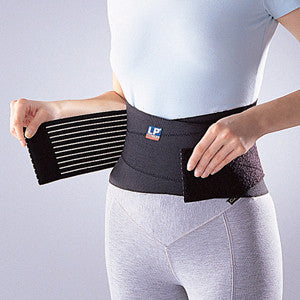 Back Support (With Stays) LP®
$50.51
Brand LP® Support
Indication
Spondylolisthesis
Muscle strain/ sprain
Low back pain
Spondylosis
HIVD (Herniated lntervertebral Disc)
Product Feature
Provides firm and comfortable support to help relieve back pain. Elastic straps with front closure for adjustable tension and comfort. Can be worn under or over clothing.
Hand wash in cold water with mild soap. Rinse thoroughly. Air dry at room temperature. Do not machine wash or dry.
Should a rash or irritation occur, discontinue use and consult your physician.
Composition
47% Polyester, 36% Rubber, 14% Nylon, 3% Spandex.