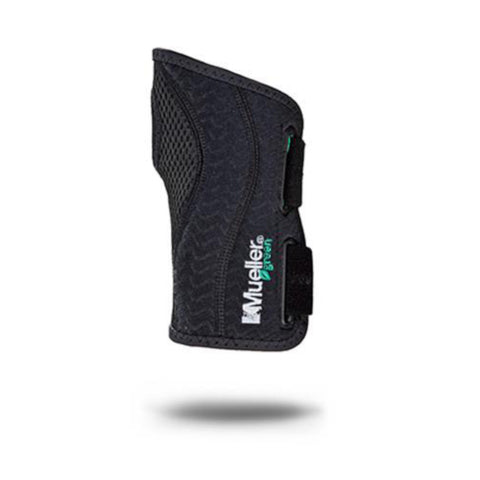 Mueller Green® Fitted Wrist Brace
$44.79
Brand Mueller®
This product is unavailable
Mueller® Green Fitted Wrist Brace is designed to help relieve pain and swelling associated with carpel tunnel syndrome. The wrist brace supports the weak or injured wrist while allowing your thumb and fingers full range of motion. The soft, lightweight fabric is comfortable to wear all day. Made from latex-free recycled materials. Fits right wrist. * Antimicrobial treatment controls or eliminates odors.**
• Two adjustable straps for custom fit.
• Two support stays with padding around spoon.
 Instructions:
• Slide hand in brace.
• Tighten adjustable straps.
Care:
Hand wash in cold water with mild detergent. Do not use bleach or fabric softener. Rinse thoroughly and air dry.
*Mueller® Green Products
Created from material made without the use of petroleum. The green inner lining is manufactured with 67% recycled plastic PET bottles. The spandex binding is made from 73% recycled materials. Even the packaging is printed with so-base inks and 100% recyclable.
**Antimicrobial.
The Mueller® Green Fitted Wrist Brace has an antimicrobial treatment that is intended to protect the brace and does not extend protection to the skin. It controls or eliminates odors, unsightly stains, and product deteriorations caused by the growth of bacteria and microorganisms.